RockBar Bali is a world-famous beachfront bar located at the AYANA Resort and Spa in Bali, Indonesia. Situated on a cliffside overlooking the Indian Ocean, it gives breathtaking views and a unique atmosphere. With its stunning location, iconic design, and unforgettable sunset sessions. Rock Bar Bali has gained international recognition and become a must-visit destination.
And talking about The AYANA Estate (AYANA Resort Bali) awarded by CNN has 200 plant species, hummingbirds, and bulbul in its own arms. Kamasan paintings and Sungkai wood carvings and many other mesmerizing items beckon passers-by to the estate to stop and rest here.
Guests can enjoy innovative cocktails, light bites, and live music while taking in the beauty of Bali's natural landscape. Whether descending through a cliffside cave or taking the stairs, the journey to it is as memorable as the experience itself.
Rockbar Bali History
Rockbar Bali's History has no bigger but it's a fascinating history that began after its opening in 2009.
Rock Bar Bali, nestled within the AYANA Resort and Spa, is perched on a secluded limestone cliff. And overlooks the southern part of Jimbaran Bay. It is the circular bar area features a minimalist design with an open-top platform. It has seamlessly built onto the natural formation.
Conceptualization and Design
Rock Bar Bali was conceived as a collaboration between the AYANA Resort (Bali) and Spa and the renowned Japanese design firm. That firm was Yasuhiro Koichi & Associates. The objective was to create a bar that would showcase the natural beauty of Bali's coastline. And provide a unique and memorable experience for guests.
Cliffside Location
The bar was strategically built on natural rocks along the cliffs of Bali's southwest coast. That has offering breathtaking views of the Indian Ocean. The rugged terrain and dramatic setting provided the perfect canvas for the bar's design.
Opening and Instant Popularity
The Rock Bar Bali officially opened its doors to the public in 2009. It quickly gained popularity and became a sought-after destination for both tourists and locals. Its unique location and stunning sunset views contributed to its instant success.
International Recognition
Over the years, Rock Bar Bali has received widespread international recognition and acclaim. It has been featured in numerous travel publications, including Conde Nast Traveler and Travel + Leisure. The bar's innovative design, scenic beauty, and exceptional customer experience have garnered it several awards and accolades.
Evolving Experiences
The Rock Bar Bali continuously strives to enhance its offerings and experiences. It hosts regular live music events and collaborates with renowned DJs to create a vibrant and energetic atmosphere. The bar has also introduced new menu items and innovative cocktails to delight its patrons.
Throughout its history, the Rock Bar Bali has remained a symbol of Bali's natural beauty and architectural excellence. Its breathtaking location, unique design, and unforgettable ambiance have cemented its status as an iconic destination and a must-visit spot for those traveling to Bali.
RockBar Bali Photos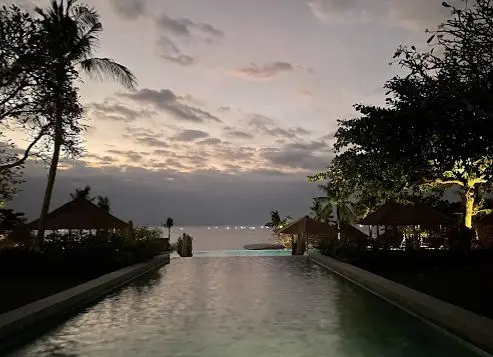 Famous for several reasons of Rock Bar Bali
Getting to Rock Bar
Getting to the bar itself is an experience unlike any other. As you approach AYANA's lush green cliff-top lawns, you'll be presented with two captivating options for descending to Rock Bar Bali, each offering spectacular bird's eye views of the surroundings.
Two Captivating Options
First Option
The first option is what some may call the "hard way,". Here you embark on an extended flight of stairs that takes you down to Kisik Bar & Grill. That resort has an exquisite seafood restaurant with tables right on the sandy beach. As you continue your journey towards Rock Bar, you'll find yourself strolling along a cliff base causeway. It meanders around a mesmerizing free-form ocean beach pool. This enchanting pathway enhances the anticipation and builds excitement before you finally arrive at the iconic Rock Bar Bali.
Second Option
For those seeking a more effortless way to reach Rock Bar Bali, the second access option is an exciting ride on a funicular. However, it's important to note that queues can form, particularly during the moments leading up to sunset.
To manage the crowds, the queues are divided into two sections. One of which offers a "fast lane" exclusively for hotel guests. If you are full of energy and have more time, we highly recommend choosing the "hard way".
This route provides multiple stops along the descent. And has offering scenic and photographic opportunities of the mesmerizing seascape, expansive horizon, beautiful beach, and the magnificent Rock Bar Bali itself. By taking the "hard way" before arriving at the bar, you'll have the chance to immerse yourself in the breathtaking surroundings and capture unforgettable moments.
Rock Bar Bali features
Rock Bar Bali offers a range of features that contribute to its unique and captivating experience.
Cliffside Location
Situated on a limestone cliff overlooking the Indian Ocean, RockBar Bali provides breathtaking panoramic views of the surrounding seascape. Its elevated position allows guests to enjoy stunning sunsets and the rhythmic crashing of waves against the rocks.
Open-Air Design
Rock Bar Bali boasts a distinctive open-air design, allowing guests to feel the ocean breeze and immerse themselves in the natural beauty of the surroundings. The bar's minimalist and contemporary aesthetic blends seamlessly with the rugged cliffside landscape.
Circular Bar
At the heart of Rock Bar Bali is its circular bar area, where skilled mixologists craft a wide selection of innovative and classic cocktails. The circular layout allows guests to easily interact with the bartenders while enjoying their drinks.
Scenic Access
The journey to Rock Bar Bali is an experience in itself. Guests can choose between descending a flight of stairs or taking an inclinator ride through a cliffside cave, both offering captivating views along the way.
Sunset Sessions
The Rock Bar Bali is renowned for its unforgettable sunset sessions. As the sun begins to set, guests can witness a magical transformation as the sky is painted in vibrant colors. Resident and guest DJs set the mood with curated music, creating an atmosphere of relaxation and celebration.
Beachfront Setting
Adjacent to Rock Bar Bali is a freeform ocean beach pool and the Kisik Bar & Grill, the resort's seafood restaurant located on the sandy beach. Guests can enjoy a meal or dip in the pool before or after their visit to the bar.
Social and Vibrant Atmosphere
RockBar Bali attracts a diverse and lively crowd, including international tourists, locals, and expatriates. The bar's energetic atmosphere, combined with its stunning backdrop, creates a vibrant and social setting where guests can enjoy great drinks and make lasting memories.
These features collectively make Rock Bar Bali an iconic and must-visit destination for travelers seeking a unique and unforgettable experience in Bali.
How to Reach Rock Bar Bali
Getting to Rock Bar Bali involves reaching the AYANA Resort (Bali) and Spa, where the bar is located. A few options for getting there:
Private Transportation
You can arrange private transportation through a taxi or ride-hailing service to take you directly to the AYANA Resort and Spa. Inform the driver that you want to go to Rock Bar Bali specifically.
Shuttle Service
AYANA Resort and Spa may offer a shuttle service for guests. Check with the resort to see if they provide transportation from popular tourist areas or hotels in Bali to the resort. This can be a convenient and hassle-free way to reach Rock Bar Bali.
Renting a Scooter or Car
If you're comfortable with driving in Bali, you can rent a scooter or car to reach AYANA Resort and Spa. This option allows for more flexibility and independence in terms of timing and exploring other parts of the island.
Public Transportation
Bali does have public transportation options like buses, but they may not be as convenient for reaching AYANA Resort and Spa directly. However, you can take a public bus or shared shuttle to nearby areas, such as Jimbaran, and then take a taxi or other private transportation to the resort.
Once you arrive at the AYANA Resort and Spa, follow the signs or inquire with the staff to guide you to the Rock Bar Bali. The bar is located on the cliffside, and you can either take the stairs or use the inclinator (a special elevator) to access it.
It's always a good idea to check with the AYANA Resort and Spa directly for the most accurate and up-to-date information on transportation options and directions to RockBar Bali, as they may have specific recommendations or services available.
Conclusion
Overall, RockBar Bali is a testament to the beauty and allure of Bali's coastal landscape, making it a must-visit destination for anyone seeking an extraordinary and unforgettable time on the island.
Please don't forget to check availability, rates, and reviews directly with the hotels or through a trusted online booking platform before making your reservation.
Read also-