The city of Ujjain is full of faith and reverence. Mahakaleshwar Mandir Madhya Pradesh is called the city of Lord Shiva. Because Lord Shiva resides in this holy city, this city of Ujjain is situated on the Shipra Coast in Madhya Pradesh. Lord Shiva is known here as Mahakaleshwar (Jyotirlinga). He also has a famous temple named Mahakaleshwar Mandir in Ujjain. In this temple, one of the twelve Jyotirlingas of Lord Shiva is installed in the south direction.
Jyotirlinga is the place where Lord Shankar himself was established. There are many secrets hidden behind the establishment of each Jyotirlinga.
By the way, there is an influx of devotees throughout the year to visit the Mahakaleshwar Jyotirlinga. But in the month of Sawan this crowd doubles. Because the month of Sawan is of Lord Shiva.
Mahakal Temple Ujjain Madhya Pradesh is situated near Rudra Sagar. It is said that out of the twelve Jyotirlingas, Lord Shiva himself resides in this linga. Lord Shiva established this linga with his mantra-power. This is the only Jyotirlinga among the twelve Jyotirlingas of India whose glory is described in the Puranas.
Actually, this temple has a lot of importance. But very few people know how Lord Mahakaleshwar Jyotirlinga originated.
Today in this article we are going to tell you about some facts related to the famous Mahakaleshwar Jyotirlinga, one of the 12 Jyotirlingas of India. we will also tell here Ujjain Mahakaleshwar temple history in English. If you found this article informative, then read on…
Ujjain Mahakaleshwar Temple History
Mahakal temple Ujjain history is very famous. According to mythological beliefs, it is said that when this earth was created, this Jyotirlinga originated at the same time. At the time of the origin of the earth, the entire land of Ujjain was barren like a cremation ground. At the time of the origin of the earth, 12 rays of the sun fell on the earth, then 12 Jyotirlingas were formed from them. Since that time Mahakaleshwar Baba Mahakal of Ujjain has been worshipped.
The face of Lord Mahakal is towards the south, so the Mahakal temple has particular importance from the point of view of Tantra's action. It is believed that only by having a darshan of Mahakal one can attain salvation. Located on the banks of Maa Shipra, Ujjain is known for its religious beliefs.
This temple was established after Lord Krishna in Dwapar Yuga, 8 generations before Nand Ji.
In Mahakal's city Ujjain, Lord Shiva is seated in the form of Kalabhairav, Harsiddhi, Vikrant Bhairav ​​, etc. Along with this, temples of many gods and goddesses have been built on the premises of the Ujjain Mahakaleshwar temple.
A religious story related to the slaying of demons
According to religious stories, Avantika, i.e. Ujjain's city, is very loving to Lord Shiva. Once upon a time, a Brahmin family lived in the city of Avantika. That Brahmin had four sons. At that time a demon named Dushan had created terror in Avantika Nagar. That demon used to trouble all the people of Ujjain. To escape the terror of the demon, the Brahmin worshiped Lord Shiva.
Pleased with the penance of the Brahmin, Lord Shiva appeared in the form of Mahakala tearing the earth. Mahakal killed the demon and protected the city of Ujjain. All the devotees of Ujjain prayed to Lord Shiva to stay at this place forever. At the request of the devotees, Lord Shiva was installed in the form of Mahakal Jyotirlinga.
Story related to the importance of the creation of Nature
According to Shiva Purana, once Lord Vishnu and Brahma started arguing about the importance of Nature's creation. To test them, Shiva divided the Jyotirlinga, which looked like a pillar, into three parts.
Lord Vishnu and Brahma divided their paths from the lower side and the upper side respectively so that they could know the end of the light. After this Brahma lied that he had found the end, while Lord Vishnu accepted his defeat.
After this, Shiva appeared from the second pillar and cursed Brahma Ji that Brahma will not get any place in divine worship, whereas people will always worship Lord Vishnu. It is said that a small part of Shiva resides in these 12 Jyotirlingas.
There are 64 types of Jyotirlingas in the form of Shiva, but still, these 12 Jyotirlingas have a different identity. Each of the 12 Jyotirlingas has its own distinct name – based on the various manifestations of Lord Shiva.
I am trying my best to give you complete information about the Mahakeshwar temple. So that this article of ours can make the journey of darshan of Mahakal very easy for you. If this article is helpful to you please read it further…
Ujjain Mahakaleshwar Temple Architecture
Talking about the architecture of the Mahakaleshwar temple, the temple is divided into 3 parts. Ujjain Mahakaleshwar Mandir Jyotirlinga is installed at the lowest part of the temple. There is Omkareshwar temple in the middle and Nag Chandreshwar temple in the upper part.
There are a total of five floors in this temple, one of which is also under the ground. The top of the Mahakaleshwar temple is built in such a way that we see it touching the sky, it is a miracle in itself.
The idol of Omkareshwar Mahadev has been erected at the holy place above the Mahadev temple. Along with this, idols of Ganesha, Parvati, and Kartikeya have also been installed in the west, north, and east. An idol of Nandi, the vehicle of Lord Shiva, has also been installed in the south direction. Along with this, there is also a pool here in which all the sins are washed away by taking a bath.
It is said that this temple of Nagchandreshwar is opened only once a year on the day of Nag Panchami.
On the day of Maha Shivratri, a huge festival is organized near the temple and Lord Shiva is worshiped till late at the night.
Ujjain Mahakaleshwar Jyotirling is also called Dakshinamurti because the face of this Jyotirling is towards the south direction. It was chosen as one of the 12 Jyotirlingas as per the Shivantra tradition.
Mahakala temple present construction
The present Ujjain Mahakaleshwar Mandir was built by Peshwa Baji Rao and Chhatrapati Shahu Maharaj's general Ranajirao Shinde in 1736. After this, Mahadji Shinde Maharaj and Maharani Baijabai Raje Shinde made many changes to it after repairing it.
After Indian independence, the Ujjain Mahakaleshwar Mandir went under the control of the Dev Sultan Trust under the Ujjain Municipal Corporation. And today this temple comes under Ujjain District Collector Office.
During the time of Maharaja Shrimant Jayajirao Saheb Shinde Alijah Bahadur, till 1886, many programs of the princely state of Gwalior were organized in this temple itself.
Must visit Juna Mahakal
It is also considered necessary to visit Juna Mahakal by visiting the Mahakal Mandir, otherwise, Mahakal's darshan is considered incomplete. According to some stories, the Mughals tried to destroy Juna Mahakal. Fearing the Mughals, Juna Mahakal was replaced by another Shivling by the temple priests.
Nandi Deep Attraction Point
In the sanctum sanctorum of Mahakal, there is a south-facing Shivling which is present with Mata Parvati, Lord Ganesha, and Kartikeya. Nandi Deep is also established here which is always burning.
Mahakal is the king of Ujjain
The important thing related to the Ujjain Mahakaleshwar Mandir is that no person sitting on the royal or royal post can spend the night here. It is believed that there was no king in Ujjain after Vikramaditya.
It is believed that only one king can stay in Ujjain and Mahakal is considered to be the king here, so no other king can stay here. This is prevalent as a tradition even today. No king has spent the night here since the time of Raja Bhoj. If a king spent a night here, he had to lose his sultanate. Even today the king, chief minister, and prime minister follow this custom and do not spend the night here. The Sindhia royal family built a palace to stay in the shelter of Mahakal. At that time, the Sindhia king had built Kalideh Mahal in Ujjain for his stay.
If you feel that while reading this article of ours, I write a good post with complete information, then you can get information about other places by reading our other written posts. the link is mentioned in this post.
Temples other than Mahakal Temple
Apart from Mahakaleshwar temple in Ujjain, Ram Ghat, Shri Ram Janaki Temple, Har Siddhi Mandir, Gadkalika Temple, Sandipani Ashram, and Mangalnath Temple are present. If you want to visit Shri Omkareshwar Jyotirlinga, then for this you have to travel a distance of three hours from Ujjain.
If you want to go for Vaishno Devi Darshan and you have no idea about it, then make your journey easy by reading our Vaishno Devi article to get complete information.
Mahakaleshwar Bhasma Aarti
Bhasma aarti
Bhasma Aarti is performed during Brahma Muhurta (about two hours before sunrise) in Ujjain Mahakaleshwar Mandir. This is a special type of aarti. In this, the priests offer holy ash (bhashma) to Mahadev while reciting holy mantras. The atmosphere while performing the aarti is such that the devotees feel the presence of God in front of them.
Popular beliefs about The Bhasma Aarti
It is said that Bhasma Aarti is performed to awaken Lord Shiva.
There is such a belief about Bhasma Aarti that years ago, aarti used to be done with fresh ashes from the crematorium of Mahadev. But in the present time, for the aarti of Mahakal, Kandas made of cow dung of Kapila, Shami, Peepal, Palash, Bad, Amaltas, and Plum woods are used.
Rules of Bhashma Aarti
Before performing Bhashma Aarti, first Jalabhishek is done on Jyotirlinga, after that everyone is taken to a big hall from where Bhasma Aarti is visible.
During Bhasma Aarti, the priest is dressed in a dhoti. There is a strict ban on wearing clothes other than dhoti.
There is no specific dress code for Bhashm Aarti. But there is a special dress code for those who want to perform Jalabhishek on Jyotirlinga.
Before going to the temple, women have to wear a sari and men have to wear only dhoti on their body. Dhoti is also available for rent outside the temple.
According to the rules, women cannot see the aarti of Bhasma. If women are present during Bhashm Aarti, they have to wear a veil for some time.
Importance of Bhashma Aarti
According to religious belief, Lord Shiva is considered to be the lord of Kaal or death. For this reason, the name 'Shiva' was derived from 'Shav'. According to Mahadev, the body is mortal and it is to be reduced to ashes like ashes one day and no one except Shiva has control over time. Sacred ashes are applied to Lord Shiva, who is seen meditating while applying the ashes.
Mystery of Bhasma Aarti
According to mythology, it is said that in ancient times Ujjain was ruled by Maharaja Chandrasen, who was a great devotee of Lord Shiva. Not only Chandrasen but also the people of Ujjain used to worship Lord Shiva a lot. Once King Ripudaman attacked Chandrasen's palace and caused a lot of damage to the subjects through demonic corruption.
In such a situation, the people remembered Lord Shiva. Then Lord Shiva himself came there and put an end to the evil demon. After this, he adorned himself with the ashes of the demon and settled there forever at the behest of his devotees, since then it is believed that the place was named Mahakaleshwar and Bhashma Aarti was performed here.
Why is Bhasm Aarti done?
According to Shiva Purana, Bhasma is considered to be the essence of creation. One day the whole creation is to be transformed into these ashes. Lord Shiva always holds the ashes of the universe. It means that one day this entire creation will merge with Shiva. For this reason, Bhasma Aarti is performed.
Tilak of Bhashma
There are beliefs that tilak should be applied to the ashes offered to Shiva. Just as many types of things are purified and cleaned with ashes, similarly applying tilak of ashes offered to Lord Shiva will lead to the attainment of inexhaustible virtue. Along with this, one will also get freedom from the sins of many births. Bhasma has special significance in the worship of Mahakal and this is their main offering. It is a belief that merely by consuming the prasad of ashes offered on Shiva, one gets freedom from disease defects.
Mahakaleshwar Bhasma aarti booking
It is best to book online for Bhasma Aarti at Ujjain Mahakaleshwar Mandir as it gives you direct permission to be present in Bhasma Aarti. You can get this booking done from the temple website, apart from this there is also offline booking of Bhasma Aarti which is done from the ticket counter located in the temple but here the line is very long, and only limited people get permission to go inside. Do carry your ID proof with you.
Ujjain Mahakaleshwar Mandir Timings
This temple remains open from 3 am to 11 pm.
Bhasma Aarti Timings
Bhasma aarti is performed in the Mahakal temple from 4 am to 5 pm. For this, devotees have to stand in line from 1 o'clock at the night. Carry a printout of the permission received online or offline in Bhasma Aarti with you.
Tips for Bhasma Aarti
If you want to see Bhasma Aarti, for which you have to stand in line from 1 o'clock at the night. So you can stay in a hotel near the temple for this. which is readily available. Where you will get hotel rental for Rs 700-1500 per night.
If you want to know ideas related to fashion, tailoring, and business, then you will get complete information about it in Meena Boutique.
When and how to visit Mahakaleshwar Jyotirling
If you are planning to visit Mahakal temple in the month of Sawan, then here we are giving you complete information related to it.
Visit Ujjain Mahakal in Sawan
Mahakaleshwar Darshan online booking
Ujjain is one of the seven places of salvation in Hindu mythology. Darshan of Lord Mahakal on Monday of Sawan is considered auspicious. In the month of Sawan, there is more crowd than on normal days, so before going to Mahakal, get complete information so that you do not face any further problems. No booking is required to visit Mahakal in the temple. But if you want to attend Bhasma Aarti, then it would be right to book online for that first.
Ujjain weather in Sawan
The temperature of Ujjain remains around 30 degrees during the month of Sawan.
Hotels near Mahakaleshwar Temple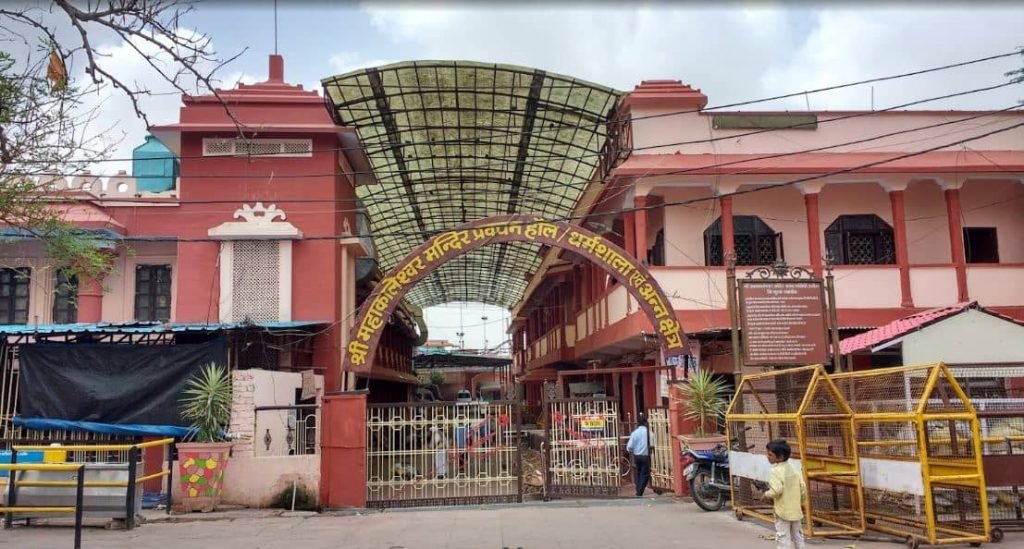 Name List of Hotels near Mahakaleshwar Temple
Hotel Blue Star
Maa Tulsi Guest House
Hotel Bhole Nath
Hotel Mahakal Ashray
Shipra Avenue Hotel
how to reach Ujjain Mahakaleshwar Mandir
How to reach mahakal temple Ujjain Madhya Pradesh is a big question. Ujjain can be reached by all three modes of transport…
By Air
If you want to go by air then there is no airport in Ujjain. Its nearest airport is in Indore, which is about 58 kilometers away. From outside the airport, you can reach Ujjain by taking a taxi or bus, it takes about 1-1.15 hours.
By Rail
If you want to go by rail, then you will get a train going to Ujjain. Ujjain is connected by rail to almost all the major cities of the country. Direct train service is available from Delhi, Mumbai, and Kolkata to Ujjain.
By Road
If you want to go by road, then Ujjain has a good network of roads and it is connected to all the major cities of the country. National Highway 48 and National Highway 52 connect it to major cities of the country.
Conclusion
Friend! I hope you liked my article on Ujjain Mahakaleshwar Mandir. In this article, we have tried to give complete information about Ujjain Mahakaleshwar Mandir. If you want to get information about other interesting places then you can comment on us. How did you like this article of ours and share it with your friends? Thank you.