If you are fond of traveling, then Best 20 Visiting Places to visit in Mount Abu in 2 days can be a great tourist place. Visiting Places in Mount Abu has been famous for a summer vacation in Gujarat and Rajasthan for centuries.
Mount Abu, located in the Sirohi district of North India, is the only hill station in Rajasthan, which is a trendy place among tourists.
Visiting Places in Mount Abu has been famous for summer picnics in Rajasthan for centuries. When to visit here, how to go, the best time to visit Mount Abu, and the cost of traveling Places to visit in Mount Abu in 2 days, you will be able to know complete information about Mount Abu in this article.
Especially Mount Abu famous for the reasons mentioned below. For the trekking of the Aravalli hills, Honeymoon Destination, Lover point, Sunset point, Viewpoint, Camping, Temple beside the other adventure activities here.
Top 20 Visiting Places in Mount Abu
Mount Abu hill station is only one hill station in Rajasthan which is situated amidst natural greenery. If you are a new couple, then Mount Abu hill station can be a perfect destination for a new couple's honeymoon.
Let us now know the information about About the Best 20 Visiting Places in Mount Abu and the Expenses to visit Mount Abu-
1- Nakki Lake
Situated amidst the beauty of Mount Abu (mt abu), the specialty of Nakki Lake is that it is the highest man-made lake in India. This beautiful lake, built at an altitude of about 12 hundred feet, is no less than heaven in Rajasthan.
Nakki Jheel is so beautiful that you can guess that 85% of Mount Abu hotels near Nakki Lake are located in this area and that is why it is crowded throughout the day. Although the whole of Mount Abu is full of beauty, the matter of this place is different. that's why most tourists come to see Nakki Lake in Mount Abu.
2- Guru Shikhar
Guru Shikhar is not only the highest point of Mount Abu (mt abu) but also the highest point of the entire Aravalli mountain range.
Because after coming here you will feel that you are in the gum of the Himalaya Mountains. It is situated at a distance of about 15 kilometers from the city.
To reach this summit, tourists have to reach by trekking in the mountain corridors and wild paths. From the top of the mountain, one can get a spectacular viewpoint of the entire Mount Abu.
Guru Shikhar is a famous place among tourists. And it is one of the Best 20 Visiting Places in Mount Abu (Mount Abu places to visit).
At this peak, you can go to visit the Tridev temple where Brahma Vishnu and Mahesh will have darshan. There is a cave of Guru Paduka on the summit, after which this place was named Guru Shikhar.
3- Trekking and Night Camping
Trekking and camping are also available in Mount Abu location which can only be done by adventure lovers.
Here you will get the following types of camping and trekking facilities. Example-
pro climbing
rope line
night camp
the wildlife
4- Toad Rock
Toad Rock is located on the major trekking road near Nakki Lake, the famous tourist destination of Mount Abu. It is a huge rock which looks exactly like a frog in appearance. It appears that the frog is about to jump into the lake. Because of this, it is known as Toad Rock.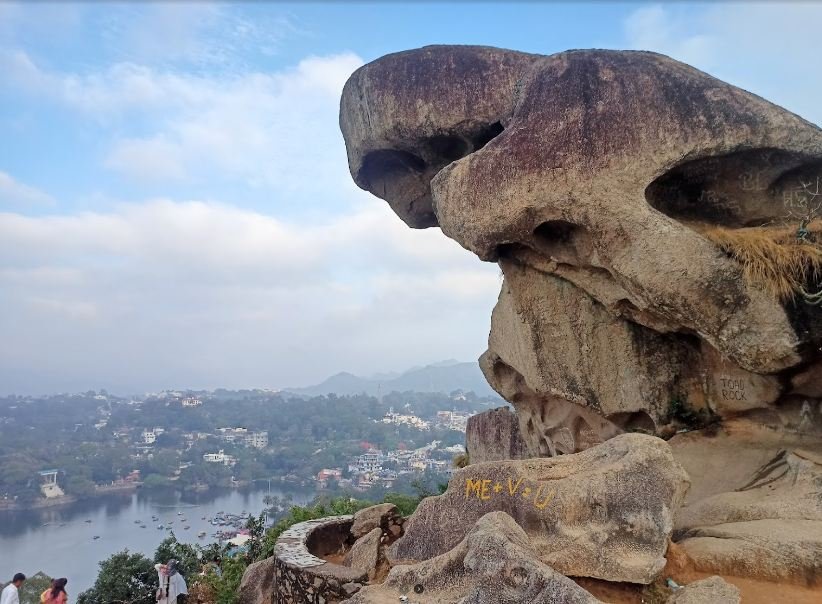 It is the gift of nature that tourists from all over the world come to Mount Abu to see it. Apart from the lake here, one can enjoy a panoramic view of the natural beauty amidst the forests in Aravalli Hill.
5- Sunset Point Mount Abu
Sunset Point situated at a distance of 2 km from Nakki Lake is quite attractive to watch the setting sun after around 5:00 pm. Tourists come here to see it. Situated behind the dense forests of Mount Abu and the Aravalli ranges, this place is popular among tourists, where tourists from Mount Abu (mt abu) come here in the evening to see this attraction and return to their homes after seeing this place. Here you can have a unique experience of the beauty of the entire hill station with the red, yellow and blue colors of the setting sun, dim lights, and winds of the setting sun.
6- Honeymoon Point
The place is known as Honeymoon Point because of the Lover Rocks, a group of two stones similar to a female and a male, present near the old entrance of Nakki Lake and Mount Abu.
That's why couples like to come here more. From here too you will be able to see the beauty of the setting sun in the best possible way. Another name for Honeymoon Point is Anadara Point.
7- Dilwara Jain Temple Mount Abu
Situated on the lush green hills, Dilwara Temple is situated on the Aravalli hills, about 2 km from Mount Abu (mt abu), which attracts tourists coming here for its serene atmosphere.
There are five white Shwetambar temples in the group of Dilwara temples and the group of these temples is called Dilwara Temples.
The beauty of Dilwara Jain Temple is known for the most beautiful carvings in the whole of India after the Taj Mahal. It is famous all over the world due to its exquisite architecture and artistic design, where every year lakhs of tourists visit this temple nestled amidst the beauty of Mount Abu.
Famous Temples of Dilwara Temple Group-
1. Adinath Temple
2. Neminathji Temple- There are 360 ​​small idols here and this temple is also known as Devrani and Jethani Mandir.
3. Rishabh Dev Ji Temple Mount Abu
4. Parshvanath Ji Temple – Largest of the Five Temples
5. Mahavir Swamiji's Temple Mount Abu
8- lover point
On the way to Guru Shikhar Mount Abu, you will find Lover's Point which is one of the must-visit Best 20 Visiting Places in Mount Abu. This place is especially very popular among today's Young.
9. Achalgarh Fort Mount Abu
Located about 8 km north of Mount Abu, this fort was built by the rulers of the Parmar dynasty of Rajasthan. In the 14th century, this fort was rebuilt by Maharana Kumar.
Achalgarh Fort is the highest fort not only of Mount Abu but of the entire Rajasthan, from where you can capture the panoramic view of the entire Mount Abu in your camera.
The fort is specifically "one of the best places" for photography. From here you get a great viewpoint.
10. Temple of Achaleshwar Mahadev Ji
The temple of Achaleshwar Mahadev Ji is situated near Achal Garh Fort. The toe of Shiva is worshiped in this temple dedicated to Lord Shiva. Apart from this, there is a temple of Nandi made of five metals, which is quite heavy. If you want, you can go here for darshan. There are also natural ponds, where sculptures of three buffaloes can be seen.
11- Mount Abu Wildlife Sanctuary
Mount Abu Wildlife Sanctuary is the only sanctuary in Rajasthan which is situated on the hills. It was established in 1960. This sanctuary is spread over an area of ​​288 square kilometers. Its special thing is that there are about 820 types of plants present here, in which Vehicle Ptera is also present, which is found only in Mount Abu of Rajasthan in the whole world.
Two hundred and fifty types of birds are present in this wildlife sanctuary, which includes both indigenous and migratory. Green Munia Bird, and Gray Jungle Fowl are present in these.
In the same animals, leopard, wild chicken, deer, bear, lion, tiger, cheetah, giraffe, etc. will be found to see almost all kinds of animals.
12- Trevor's tank, Kukrail Park
It is a crocodile park that is located at a distance of about 5 km from Mount Abu. In Kukrail Park, Kodine is quite famous for peacocks, pigeons, swamps o and black bears. Due to the abundance of greenery, people go to see it as a picnic spot as well.
13- Gaumukh Temple or Rishi Vashisht Ashram
To get the darshan of Gaumukh Temple, located at a distance of about 4 km from Mount Abu Bus Stand, you will have to climb 700 steps to the top, here you will have darshan of Saint Rishi Vashisht ji.
It is believed that Vashistha performed a yajna at this place. Four major Rajput brothers were formed in it, among whom were Chanak, Chauhan, Pratihara, and Parmar.
A cow-faced waterfall is present in the temple, from where the waterfall flows naturally. Apart from this, there is a fire pit, where sage Vashistha performed the yajna and there is an ashram of sage Vashistha nearby, where Lord Rama and Krishna will be seen.
14- Arbuda Devi
To reach Arbuda Devi Temple, one has to climb more than 300 steps to the top of the hill. Arbuda Devi is considered by the Rajasthanis to be a form of Mata Vaishno and is worshiped in this form.
The specialty of this temple is that it is a complete temple built on a single rock which is present inside a cave. Where you can enjoy the natural beauty by reaching Mount Abu, apart from the philosophical site, you are going to get a great experience here as a Mount Abu tourist place.
At the foot of this temple, there is also a milk stepwell. if you want, you can also see it.
15- Brahmakumari Park -Peace park
Situated at a distance of about 8 km from Mount Abu, two Aravalli peaks are situated between Guru Shikhar and Achalgarh. Peace Brahmakumari Park is known for its scenic beauty and is nestled amidst serene natural scenic surroundings.
You can also take a great experience of yoga i.e. meditation in the park. That's why there are many more gardens here where you can spend some time.
16-Om Shanti Bhavan (Universal Peace Hall)
Om Shanti Bhawan Situated in the middle of Mount Abu in Rajasthan, this place is known for the wonderful experience of yoga spiritual supernatural, which is quite famous not in Rajasthan but all over India.
Om Shanti Bhawan is also known as Universal Special Head Quarter in Mount Abu. This is the main headquarter of Brahmakumari.
17- Rishikesh Temple and Waterfall
Rishikesh Temple is one of the ancient temples of Mount Abu. This temple was established by King Manish. King Manish founded the civilization of Mount Abu also.
The temple is named after Lord Indra Rishikesh. It is also said that the king was successful in performing a 100-horse cloud Yagya here.
18- Rishikesh Waterfall
There is a natural spring located at a walking distance after visiting Rishikesh temple which is going to give you a wonderful experience to visit in Mount Abu.
19- Raghunath Temple
In Mount Abu, Raghunath Temple is believed to be the reincarnation of Lord Vishnu. The temple is considered by Vaishnos to be the holiest place on earth. and This temple was established about 600 years ago.
For tourists interested in religious and spiritual interests, Raghunath Temple in Mount Abu is one of the philosophical destinations.
Places to visit in Mount Abu in 2 Days-
Nakki Lake, Brahma Kumari Ashram, Raghunath Temple, Apollo Ground, Tod Ross as well as Sunset Point of Nakki Lake, Dilwara Jain Temple, Peace Park, Travers Tank, Shooting Point, Achalgarh Fort, and Guru Sikhar, etc.
Best Time to visit Mount Abu
Mount Abu Visit Time – Although Mount Abu can be visited anytime. The whole year Mount Abu best time to visit. if You want to know the good time to visit mount Abu, it is May-June and December. May-June and December is the best season to visit mount Abu because in May-June summer festival is celebrated here and in December winter festival is celebrated. Hence it is the best month to visit Mount Abu. Where you can enjoy the dance culture and folk dance of Rajasthani apart from the beauty of Mount Abu. Also, you can enjoy star programs, nightlife, food, cultural activity, etc. Hence these months are the best time to go Mount Abu.
How to reach Mount Abu
Mount Abu Distance – Mount Abu is located in the Sirohi district of Rajasthan, which is about 445 kms from Jaipur, the capital of Rajasthan, 261 kms from Jodhpur, 163 kms from Udaipur and 256 kms from Ahmedabad.
The nearest airport to Mount Abu is Udaipur, from where you can go by taxi or via railway.
To reach here, you have to first reach Mount Abu Railway Station or Bus Stand. After that, via taxi, one has to reach Mount Abu Hill Station via a 28-km climbing road. Where you can explore the place to visit in your Mount Abu.
How to visit Mount Abu?
To visit Mount Abu, you will find many such agents or shops on the railway station or bus stand where you can take bikes, cars, scooty etc. on rent. 2 people can roam Mount Abu with a bike for five hundred.
Where did you stay in Mount Abu?
The lake area will be the most suitable place to stay in Mount Abu as all the places to visit from here are nearby, which are present within a radius of about 15 km, which also reduces the cost of the travel.
What is the cost of Places to visit in Mount Abu in 2 Days?
Here we will tell you the cost of the Mount Abu trip according to the 2-day tour plan. Apart from this, according to your lifestyle, the expenses may increase or decrease.
Day-1 – On the first day you should visit your Mount Abu tourist spot like Nakki Lake, Brahma Kumari Ashram, Raghunath Temple, Apollo Ground, Tod Ross as well as Sunset Point of Nakki Lake.
All these places are within 3 kilometers of Mount Abu, so that you will not have to spend any big traveling expenses. About 500 / – will be able to visit in the cost of conveyance.
There is a big market in Mount Abu Nakki Lake. You can go shopping here in the evening.
Day-2 – In the tour plan for the second day, visit Dilwara Jain Temple, Peace Park, Travers Tank, Shooting Point, Achalgarh Fort and last of all, visit Guru Sikhar. For this you book a sight seen package which will cover all the places for Rs 1500/-.
Mount Abu is a budget-friendly place. The biggest expense for this comes from the hotel. The cost of which is about 2 thousand to two and a half thousand per day for 2 people.
The cost of meals (food) for 2 people for two days will come to about Rs 2 thousand.
Therefore, according to this plan, the total cost of Hotel-2500, Miles-1000, and Conveyance-1000 come to Rs.4500/- per person. In this way, you can cover your Mount Abu trip in such a low budget.
What is famous for eating in Mount Abu?
Due to being a Mount Abu tourist place, all types of fast food, non-veg food, and veg street food are found here. Apart from this, you will find the famous Dal-Bati-Churma, Kachori-Samosa, Pakoras, Lassi, and Ghevar, etc. of Rajasthan's famous specialty Mount Abu.
Conclusion
Through this article, we told you about the place to visit Mount Abu, the cost of visiting Mount Abu, the time to visit Mount Abu, etc. has been told with complete information in this article. If u find anything wrong in the information given in the article, then comment to us immediately. If you liked our post, do share it with your friends!
Thank you for visiting the site!
read also-
Chhatarpur Bageshwar Dham Sarkar
If you are fond of listening to songs and want to download the best and most popular ringtone for your mobile phone. So for this, you visit our website (https://ringtonss.com/). You will find our latest and most popular ringtones on this website. From here you can choose and download the best ringtone as per your choice.
If you want to know ideas related to fashion, tailoring, and business, then you will get complete information about it in Meena Boutique.