Chuka Beach Pilibhit – In today's article, we take you to the Chuka Forest of Pilibhit. Friends, whenever we see someone sitting on the beach or on its side, feeling the cool breeze and playing with the water, then we also feel like going to such a place. And sometimes we even spend a lot of money to go to such a place. But today we take you to the beach closest to you, where you can have more fun for less.
Do you know that there is such a beach in the state of Uttar Pradesh, India which is very close to you and we know it by the name of Chuka Beach Resort. This Chucha beach, hidden from the public eye of the metro city, is a magnificent gem of nature.
Chuka Beach is located on the banks of the Sharda River in the Pilibhit district of the state of Uttar Pradesh. But it is not much famous as a famous tourist destination. But you can choose this place to have more fun at less cost. Rich in historical and religious sites, Pilibhit is one such district that has a lot to offer to tourists. People from different parts of the country and even from outside come to see the beautiful ambiance, serenity, and various religious places of the district. It is like no other regular beach where you can lie in the sand and sunbathe. Sal forests here are known for their rich biodiversity. Here you will get to see the home of different species of birds and animals.
If you feel that while reading this article of ours, I write a good post with complete information, then you can get information about other places by reading our other written posts. the link is mentioned in this post.
Existence of Chuka Beach
This beach is the result of the continuous efforts of an officer named Ramesh Pandey. The beach came into existence in 2002 when Ramesh Pandey, an IFS officer, decided to convert the secluded spot between Sharda Sagar Dam and Sharda Canal into a tourist destination as well as promote eco-tourism at the site to help in tiger conservation. took into account. Thinking. He developed the place with the help of donations contributed by his colleagues from his own salary, without any financial support from the government. Pandey also dedicated time to spreading awareness about the environment among those who were helping them by directly joining the project as "Guardians of the Forest".
The first four eco huts were built during his tenure in the Chuka Beach area with the help of his associates. Location After his transfer in 2004, it was built by the Forest Department and formally opened for tourists in 2014. Chuka Beach is now a famous picnic spot in Uttar Pradesh and is being managed by the Government of Uttar Pradesh.
Most Important Points of Chuka Beach
1. Accommodation Facilities Near Chuka Forest of Pilibhit
Tourists can come here and enjoy a stay in the huts of Chuka Beach in the forest. Night camping is a great way to spend an exciting night at Chuka Beach. There are four forest huts here, which have the necessary facilities with the best arrangements for spending the night. Chuka Beach also offers accommodation facilities in bamboo huts, tree huts, and Tharu huts.
There is also a forest rest house in Mahoff. But it is a little far from Chuka Beach. An area has been allotted by the government for everyone to come and enjoy various recreational activities in the forest huts. Where a watch tower and a vehicle parking facility are available for the convenience of the visitors.
2. surrounded by forests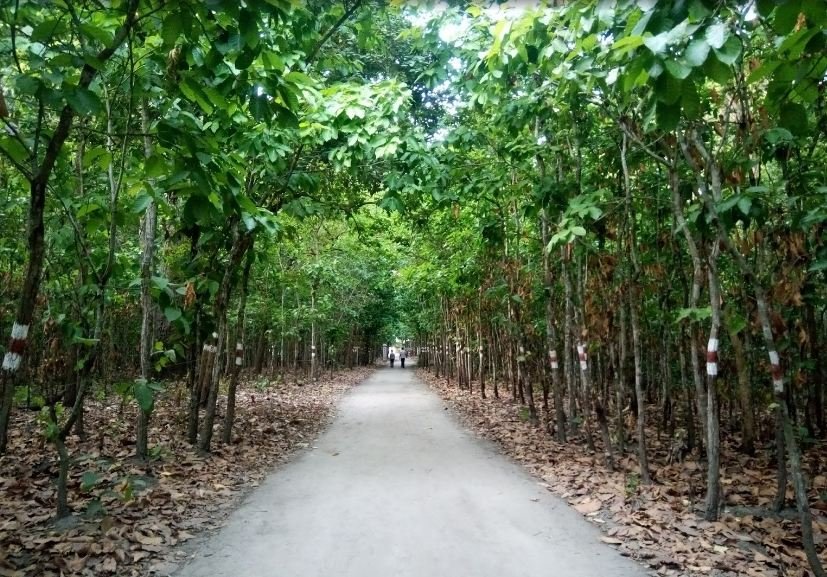 Just 360 km from Delhi and bordering Nepal, Pilibhit Tiger Reserve needs no introduction. Many tourists come here to spend time. This place is surrounded by dense forests and mountains. The view of the sunset from here is amazing. Being an eco-tourism destination, it is strictly forbidden to carry alcohol, meat-based food, and polythene here.
3. spread area
Although Chuka Beach has not gotten much recognition yet, but in the coming time, this beach has strong potential to be developed as a tourist destination. Chuka Beach is actually the reservoir of the Sharda River Barrage, which comes under the Mahof Forest Range. This Mahof forest range is in the Pilibhit district between the Sharda Sagar Dam and the Sharda Canal. The length of the Sharda Sagar reservoir is 22 kilometers and the width is 3 to 5 kilometers. And its edge is spread over a distance of 14 kilometers.
4. Mountain
Being close to Nepal, there are mountains here too. So here you can enjoy the beach as well as the mountains. The waves at Chuka Beach look like ocean waves.
The area around Chuka Beach is protected by the state government and has been converted into a picnic spot to promote tourism. Many types of fish are found in this reservoir. Along with this, different types of trees, many types of herbs, and grasses can also be seen in the forest area. Due to the abundance of natural wealth, there is also an abundance of wild animals and birds. This place is famous for fox, tiger, jackal,s etc.
5. Food facility at Chuka eco-tourism spot
The area around Chuka Beach is known for religious places and peace. You can reach Chuka Beach by traveling 2 kilometers through dense forests. Tourists find here a government-run canteen, where tea and snacks are available for visitors, food stalls, tree houses, and some temples in the vicinity. The natural beauty of the beach makes this place extremely beautiful. Because of this tourists are attracted to this place.
Attraction point of Chuka Beach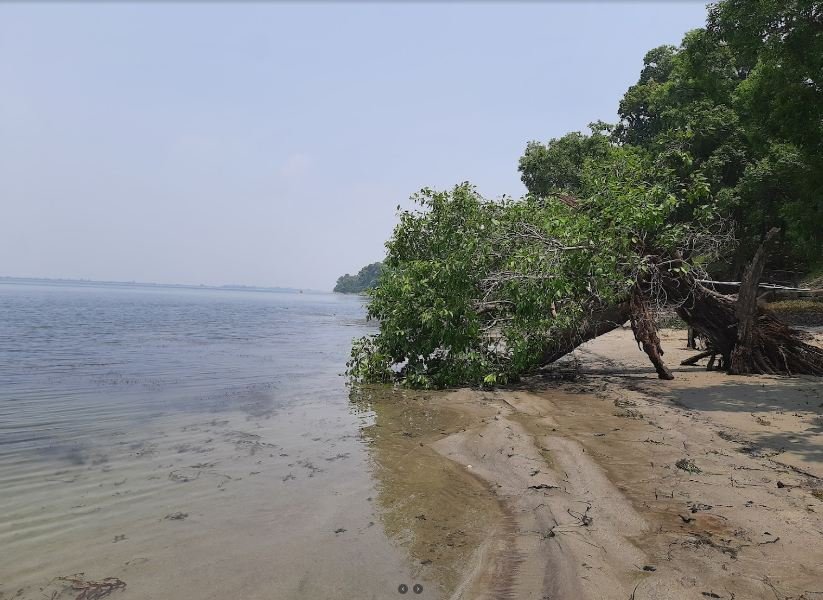 1. Main attraction point
One of the most exciting main attractions of Chuka Beach is traveling by road. This journey gives you a thrilling experience. To reach this place, when you go by road, you will pass through the dense forest of Peepal and Pakar on both sides of the highway. The landscape completely resembles a tunnel. Also, in some places, the complete absence of sunlight will give you a wonderful experience. Also, many animals and birds can be seen in the meadows near the reservoir.
Apart from this, wild rabbits, monkeys, boars, crocodiles, woodpeckers, snakes, black pheasants, quails, flamingos, and ducks are seen. When migratory birds come here. So the view here becomes beautiful and alive. Colorful birds from different parts of the world come here. The chirping sound of exotic birds makes the water of the reservoir more attractive along with the pleasant atmosphere. Crocodiles can also be seen here.
2. Major attraction point
sunset and sunrise points
photography adventure
siphon canal point
Kharja Canal Point
bifurcation point
water reservoir
alligator point
Barasingha clap
Wildlife Safari
bird watching
Python Point
birding point
Sapta Sarovar
nature trail
flag clap
otter point
Bhim Tali
boat ride
red pulley
Chuka Beach Photos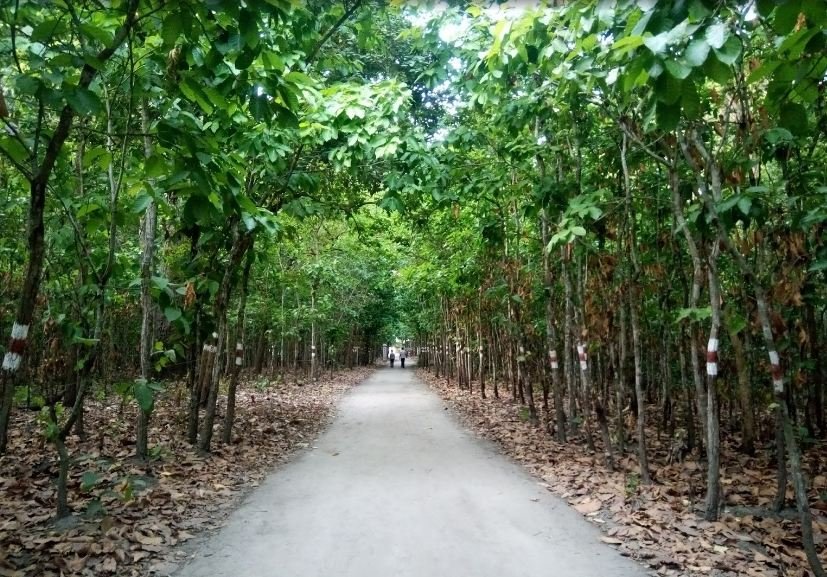 Where To Stay Near Chuka Eco-Tourism Center
A bamboo hut, a tree house, and four Tharu huts are also available for tourists. They can be booked online. Apart from these, rest houses, etc. are also available in the area. Note that from October 15 to June 15, booking of Huts in Chuka Beach is almost full. Therefore, if you have not booked online, then it is necessary to book here at Chuka Eco-Tourism Center located in the Mustafabad area.
Apart from this, we have mentioned some important places in the place of stay near Chuka Beach Pilibhit. If you like then you can go here.
Chuka Beach Hotel Name
Krishna Residency
Hotel Grand Sharda
Hotel LA
If you want to go to Machu Picchu of Peru and you have no idea about it, then make your journey easy by reading our Machu Picchu of Peru article to get complete information.
Amount To Stay At Chuka Beach
As I have already told to you that this Beach is a part of the "Pilibhit Tiger Reserve" located on the banks of Sharda River in the Pilibhit district of Uttar Pradesh state. It is home to various species of birds and animals. And Chuka Eco-Tourism Spot is a place full of natural beauty. Its beauty compels every tourist to come here again. Here are the Thought Huts or Tree House. Which is made by the tourism department. To stay in these tree houses, the traveler has to pay Rs 1500 to Rs 4000. Tourists can book it before going here. Apart from this, tourists can go boating in a paddle boat on Chuka Beach. There is a canteen for breakfast.
Some Other Interesting facts about Chuka Beach
Chuka Beach is a good tourist destination in Pilibhit.
Pilibhit Junction Railway Station is the nearest railway station to Chuka Beach.
The eco-tourism spot of the Tiger Reserve Mahof Range has been named Chuka Beach.
Pilibhit district of Uttar Pradesh is a famous religious place.
Overnight camping is also available near Chuka Beach.
Chuka Beach accommodation rates (per night per Tharu hut)
1. Accommodation Rates for Indians – INR 2400/- for single occupancy and INR 3600/- for double occupancy
2. Accommodation Rates for Foreigners – INR 2700/- for single occupancy and INR 4200/- for double occupancy
Pucca Tharu hut/Bamboo hut/Tree hut rates
1. For Indians (Pucca Tharu hut/Bamboo hut/Tree hut) – INR 2400/- for single occupancy and INR 3600/- for double occupancy
2. For Foreigners (Pucca Tharu Hut/Bamboo Hut/Tree Hut) – INR 3300/- for single occupancy and INR 4900/- for double occupancy
Reservation and Charges Policy
Chuka beach online booking Website
https://upecotourism.in/ChukaForestPilibhit.aspx
Offline and Online
Reservation can be done online or from the office of the Regional Manager (Ecotourism) UP Forest Corporation, 21/475 Indira Nagar Lucknow.
Chuka Beach Contact Number – Telephone no. : 0522 – 226016
Cancellation Policy –
1. If the cancellation is done before 11 days from the check-in date then 100% of the amount will be refunded.
2. If the cancellation is done between 10 to 4 days from the check-in date then 75% of the amount will be refunded.
3. No amount will be refunded if the cancellation is done within less than 3 days from the check-in date.
4. If the cancellation is done after the last date of the booking month then GST will not be refunded or will be deducted as in the policy above.
Also, in case of an unsuccessful booking when money has been deducted, the entire amount will be refunded to the same account. The user is advised to send an email giving details for such deductions
Terms & Conditions –
Remember this is your eco visit so don't expect modern amenities like AC, TV, WiFi, etc.
Power supply for fan and power is subject to availability of electricity and solar light condition.
The tariff will be admissible as per the government rate on the date of the journey.
Other charges
Since the sanctuary is a protected area under the management of the UP Forest Department, the entry/travel of the visitors inside is handled by the Forest Department. Accordingly, the rules framed in this regard are to be strictly followed. The following entry fee is charged by the Forest Department, which has been included in the room fee.
Private vehicles of visitors are not allowed inside the sanctuary for safari tours by the Forest Department. These tours are to be undertaken by Registered Vehicles (Gypsies) for which additional charges are payable.
Photography – Fee as per rules of UP Forest Department is not included in the room tariff.
Chuka Beach Ticket Price For Safari Ride
Time of jungle safari from 6:00 to 11:00
Due to the Safari time from 4:00 pm to 7:00 pm
Serial no. Safari departure point Booking fee (Rs.)
1. Mustafabad 2400/- Per vehicle 6 person
2. Kishanpur 2700/- Per vehicle 6 person
Jungle safari's time from 6:00 to 10:00
Due to the Safari time from 4:00 pm to 7:00 pm
Serial no. Safari departure point Booking fee (Rs.)
1. Mahoff 2700/- Per vehicle 6 person
2. Pilibhit City 3000/- Per vehicle 6 person
Best time to visit Chuka Beach
The best time to visit Chuka Beach is from October to March when the weather is slightly cooler. The weather here can be very hot in summers and there may be occasional heavy rainfall during monsoon, so you should visit the winter season i.e. October to March for a pleasant trip.
Full address of Chuka Beach eco-tourism spots
Chuka Beach Location – Chuka Beach, Mustafabad, Pilibhit Uttar Pradesh 262122
3 ways to reach Chuka Beach, Pilibhit, Uttar Pradesh
1. How to reach Chuka Beach by Flight – Chuka Beach is the nearest airport to Pilibhit city located in New Delhi which is well connected to major cities in India and abroad. This airport is at a distance of 8 hours by road from Pilibhit city. From there, tourists can easily reach Pilibhit Tiger Reserve/Jungle by taxi, bus, or cab.
2. How To Reach Chuka Beach By Train – If tourists want to travel to Chuka Beach by train. So for this, you have to catch a train to Pilibhit. The nearest railway station is Pilibhit Junction railway station, which is 63 km away from Chuka Beach. Pilibhit is well connected to most of the nearby major cities and towns like Bareilly, Rampur, New Delhi, and Lucknow.
3. How To Reach Chuka Beach By Road – If tourists want to visit Chuka Beach by road. So Pilibhit is one such city. Which is well connected by buses. It is easily accessible by road from many major cities in the state. After reaching here, you can easily reach Chuka Beach by hired cab. Which is located in Pilibhit Tiger Reserve/Forest. Buses are available from Anand Vihar ISBT in Delhi to Pilibhit.
conclusion
Through this article, we have covered the complete information related to Chuka Beach Timings, Chuka Beach Resort, and Chuka Beach Hotel. Hope you have understood well my article Chuka Beach in Pilibhit. If u find anything wrong in the information given in the article, then comment to us immediately. If you liked this post of ours, do share it with your friends!
Thank you for visiting the site!
If you want to know ideas related to fashion, tailoring, and business, then you will get complete information about it in Meena Boutique.