Khandari Lake Jabalpur is a beautiful reservoir in the city of Jabalpur. Tourists from all over the world come here to enjoy the beauty of this place. This is a very popular place for fish eaters. It is a small Waterfall in Jabalpur but It comes first on the list of Jabalpur tourist places. The lake is surrounded by forest on all sides and has very few inhabitants. Khandari Lake is one of the most beautiful places in Jabalpur and it is located in Dumna Nature Reserve (Dumna Nature Park).
Khandari WaterFall Jabalpur Overview
During the rainy season when the Khandari Dam is completely filled with water, the water of the dam overflows to form a waterfall, which is called Khandari Falls. Another small waterfall is formed at some distance from Khandari Falls. The height of Khandari WaterFall Jabalpur is low, but the waterfall here looks very nice.
Famous Cause of Khandari WaterFall Jabalpur
This lake has become famous due to the crocodiles found here. It is very surprising to see that from where so many crocodiles come to the lake. People are not allowed to enter this lake as it is dangerous for humans. For this, you will find boards everywhere, in which it is written that it is forbidden to get down and bathe in the lake, because there is a crocodile in the lake, so you should not make the mistake of going to the lake.
Sanctions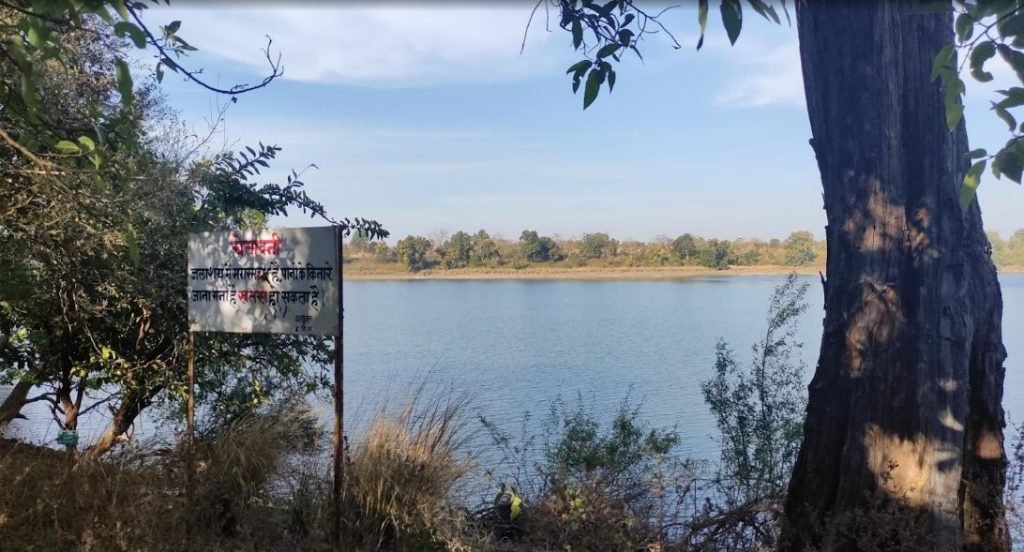 In the year 2019, there was an accident near Khandari Falls. A little further where the water of Khandari Lake overflows, a pond is formed, which is quite deep. Unfortunately, one person drowned in this pool, due to which access to this Pool has been banned since then. Be careful if you visit this waterfall. Don't be careless. Because here it is very slippery in the rain. Near the reservoir where the water overflows, an ancient building built during the British times can be seen. People are not allowed to go here. Along with this, wires have also been installed here so that no person goes into the dam.
Construction of Khandari Lake
Khandari Reservoir is an ancient dam. Khandari Lake Jabalpur was constructed in the 19th century during the time of the British near Dumna Nature Reserve. Its creator was JH Morris, Berar's chief commissioner. The main objective of the creation of this lake was to supply fresh water to the entire Jabalpur district. Also, due to the sweetness of the water of Khandari Lake, it was the main source of drinking water for the people. When construction began, it was in the form of a small tank. Gradually, when the water in this tank started getting more, it became a big reservoir that had the capacity to store a lot of water. There is no concrete evidence as to why this place was specifically chosen for Khandari Lake.
Dumna Nature Reserve
Dumna Nature Reserve is situated on the bank of Khandari Reservoir on Airport Road, about 15 km from Jabalpur. Here you will get to see wild animals like monkeys, deer, leopards, etc. There is also an MPTDC restaurant and some rooms for overnight stays. There is also a full-blown snake zoo. A toy train takes you around it.
Khandari lake view
A view of the entire Khandari Dam can be seen from Dumna Nature Park. Due to the high water level in Khandari dam, a small waterfall is formed which is called Khandari Falls. Seating chairs have been arranged near the dam.
There is also a park and restaurant for children. A hanging bridge, tent platform, rest house, fishing platform, toy train, and boating are other tourist attractions near Khandari Lake. However, activities like bathing or swimming in the water are strictly prohibited due to the presence of crocodiles.
Being situated in the middle of Dumna Nature Park, Khandari Lake (Khandari Dam) is an attractive tourist destination in Jabalpur. There are different types of wild animals in this park. To see Khandari Lake in its entirety, you have to visit it by bicycle. Also, bicycle rentals are available for those who wish to cycle in the area. But you'll definitely need a guide to ride it safely.
Khandari Lake Waterfall Amusement Park
Khandari Lake Falls Madhya Pradesh 482005 located in Dumna Nature Reserve Jabalpur has secured a good position in the Park category in Jabalpur. It is one of the best destinations in Jabalpur in the area of the park, water park, and resort category. This park is also known as a water park, resort, amusement park, water park, picnic spot, adventure park, and other names.
There are different types of trees near Khandari Sarovar, under which you can spend your time sitting. Sitting here you can listen to the sound of birds, and waterfalls and enjoy nature. The atmosphere here resonates with the sound of birds and waterfalls. You can have a picnic with friends and family here at Khandari Lake.
Best time to visit Khandari Lake
The best time to visit Khandari Dam is during the rainy season as the water level of the dam is very high during this time. The view of Khandari Dam from below is really captivating. The water of Khandari Lake is so clear that you can easily see the surface beneath its reservoir. There are also unpaved roads which take you towards the dam.
charge
Khandari Falls is open throughout the week from 10:30 am to 6:00 pm. A parking fee will have to be paid in case of overcrowding. But when there is no crowd or there is no closure then the parking fee here is free. Then no such charge is taken here. The charges for visiting this park are very less. The entry fee to Khandari Water Falls is Rs 20 per person. Indoor activities are also charged separately at a reasonable price.
Khandari Lake Location- Where is Khandari Lake situated?
It is very easy to reach Khandari Lake. Khandari Lake is located on a very well-maintained road in the Dumna Nature Reserve Park, about 1.3 miles from the main town. Also, this lake will be about 15 km away from Jabalpur. You will get to see the lake as soon as you go inside this park.
Khandari lake Waterfall Address:
Khandari lake Jabalpur address – Khandari lake, Dumna Nature Reserve, Jabalpur, Madhya Pradesh 482005, India
Dumna Nature Reserve, Rehli, Jabalpur, Madhya Pradesh 482005, India
How to reach Khandari Lake – How to reach Khandari Lake?
You can come here in your own car, by car, by bike. Khandari Falls To reach Jabalpur Falls, you have to come through the paved road of Dhobi Ghat. After this, the road is not paved from there, but it takes only one kilometer to reach there. You can park the car on the side of the road and walk till Khandari Falls. This waterfall will be about 500 meters from the road. This lake is located inside Dumna Nature Park. Parking is also available outside Dumna Nature Park where you can park your vehicle. After that, you can a walk near the lake.
Conclusion
Through this article, we told you about the Khandari lake waterFall Jabalpur, Khandari lake (Khandari Jheel), and Khandari falls (Khandari dam) located in Dumna Nature Park (Dumna Park). If u find anything wrong in the information given in the article, then comment to us immediately. If you liked our post, do share it with your friends!
Thank you for visiting the site!
If you want to go to Chuka Beach Pilibhit Uttar Pradesh and you have no idea about it, then make your journey easy by reading our Chuka Beach Pilibhit article to get complete information.
If you want to know ideas related to fashion, tailoring, and business, then you will get complete information about it in Meena Boutique.