Amber Fort in Jaipur: Amber Fort is located on the top of the Aravalli hill in Jaipur, the pink city of Rajasthan state. This fort of Amber is so popular and famous in India because of its architectural art and history that more than five thousand tourists come here every day to roam here. Situate just 11 km from Jaipur, the capital of Rajasthan. This fort is made up of pink and yellow sandstones. Amber Fort in Jaipur.
History of Amber Fort
Amber fort of Jaipur: During ancient times, during the 11th century, the city was ruled by the famous Kachhwals as Dhundar. Amer was a small town before the rule of the Kachhwahs, which was built and inhabited by a small tribe called the Meenas.
Amber Fort in Jaipur. This fort is named after Ambikeshwar, the name of Amber Lord Shiva. However, according to the local people, the name of the fort is derived from the name of Mother Durga, Amba. LOTUS TEMPLE IN DELHI-A Spectacular Place of Worship
The Amber Fort was built by King Mansingh I in the 16th century and for the next 150 years, his successors worked to expand and renovate the fort. Amber fort at Jaipur.
After this, Sawai Jai Singh Dwitiya established his capital from Amber to Jaipur during his reign in 1727.
Before Jaipur came into existence, it was known as the capital of Suryavanshi Kachchhawaha rulers.
Earlier this place was named Kadimi Mahal which is the oldest palace in India.
The palace also has a small temple of her patron goddess 'Sheela Mata' which was built by Raja Man Singh.
This fort is situated on the banks of the Mootha Lake where palaces, pavilions, halls, temples, and gardens are also included.
The architecture of Amer Fort
Amber fort Jaipur: Amer Fort, located about 11 km from Jaipur city of Rajasthan state, is built of marble and red sandstone, representing the traditional Hindu and Rajputana style.
The fort looks like a Mughal architectural style when viewed from the outside, while from inside, this fort is completely built with Rajput architecture style.
The historical reservoir, gardens, palaces, and beautiful temples built inside this huge fort add to its beauty. The Amer Fort is divided into four parts. Each part of it is furnished with its own separate entrance and courtyard.
The main gate of this fort is also called 'Suraj Pol' or Surya Dwar which leads to the main courtyard. The name of this temple is derived from the rising of the sun in the east.
At the same time, inside this fort, a grand dwaar is also built in the south direction, which is known as Chandpol Dwaar.
Jaleb Chowk is situated right in front of Chandpol Dhar. Stairs are seen from Jaleb Chowk on two sides, on one side of which the steps lead towards Sheetla Mata Temple, the total goddess of Rajput kings, and on the other side of this fort from Jaleb Chowk, towards the Singhpol gate.
Jaleb Chowk was used by the army to re-display its wartime hours that women could only see from their windows.
Diwan-e-aam Amber Fort
The Diwan-i-Aam is considered to be a very special structure among the historical and important structures built in the premises of this grand and huge fort of Jaipur. It was built by Raja Jai ​​Singh. Diwan-i-Aam was built for the general public. Here the problems of the general public were heard and resolved by the emperors.
This special historical structure has been made with very brilliant and carved columns with mosaic work of glass. There are 40 pillars in this hall, which is very attractive and beautiful.
Some of these pillars are also of marble, on which prized stones are attached. Sculptures of different and very beautiful paintings are carved on the stones of this special historical building.
Sukh Niwas Amber Fort
Sukh Niwas remains in front of Diwan-i-Aam. The gates of Sukh Niwas are made of sandalwood, and the gate is decorated with elephant teeth.
This place was used by the kings to spend their precious time with their queens, due to which it is known as Sukh Niwas.
Sheesh Mahal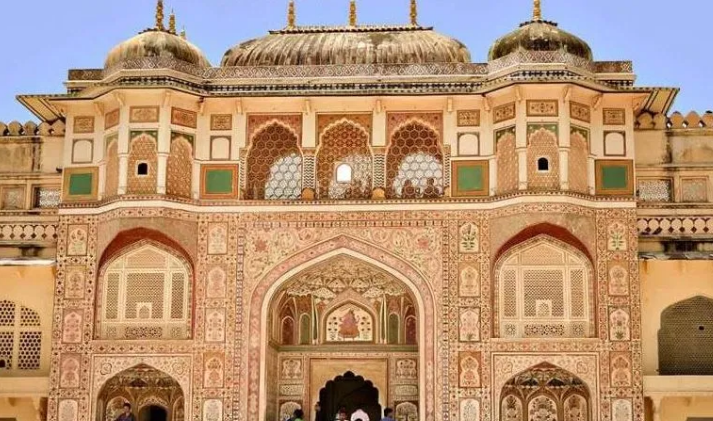 The Sheesh Mahal, built inside the Amber Fort, is one of the major attractions here which is made up of mirrors. The Sheesh Mahal has been constructed in such a unique way that when some rays of light fall inside the Sheesh Mahal, the entire hall is illuminated with light. One very special thing about Sheesh Mahal is that only one candlelight is enough to illuminate or illuminate it.
Ganesh Pol Amber Fort
Ganesh Pol is situated on the south side of Diwan-i-Aam built inside this fort of Amer, which is one of the main historical structures built in this huge fort. This Pol was built by Raja Jai ​​Singh II from around 1611 to 1667 AD Was done between.
A small idol of Lord Shri Ganesh is installed in the upper part of this temple, due to which it is called Ganesh Pol.
It is also said about this grand and magnificent fort, that when any emperor returned after winning a war, he entered the fort from this fort, from where kings were welcomed with a rain of flowers.
Chandpole Darwaza Amer Fort
Chandpole Darwaza is also one of the major historical structures of this Amer Fort. Which is situate on the west side of the fort. It was named Chandpol because of the moon rising in this direction.
On the top floor of this very attractive and beautiful gate, Naubat Khana was built, in which many music and instruments were played along with the drums and the tabla.
Dil Aram Bagh
This magnificent and attractive garden was build in about the 18th century. Beautiful and attractive reservoirs and fountains have been construct in this garden.
Its delightful beauty is relieving heart and contemplation, hence it is name "Dil Aram Bagh".
Shila Mata Mandir (Amber Fort)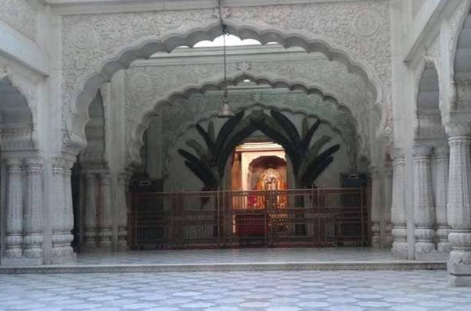 A famous Shila Mata temple is located inside this huge fort. This temple was build by Raja Man Singh. This temple is construct using white marble stones.
Some people believe that Raja Man Singh brought the idol of this temple from the bungalow, while some believe that when King Kedar married his daughter to Maharaja Mansingh, he presented this idol as a gift was.
People come from far and wide to visit the Shila Mata temple. It is believed that in this temple all the wishes sought by the devotees with the true mind are fulfilled.
Amer Fort Light And Sound Show
Light and sound shows are organize daily in this huge Amber Fort in Jaipur, which lasts for about 50 minutes. This show describes the beautiful history and courageous kings of Amber Fort. This show attracts the attention of tourists. The show has been voiced by Bollywood superstar Amitabh Bachchan. Tourists have to take a separate ticket to watch this show.
• Show fee for Amber Fort Light & Sound – Rs 295/-
• Amer Fort Light & Sound time duration – 52 minutes
Amber Fort Light And Sound Show Timings
October to February- 7:30 pm (Hindi)/6: 30 pm (English)
March to April – 8:00 pm (Hindi)/ 7:00 pm (English)
May to September – 8:30 pm (Hindi)/7:30 pm (English)
How to Reach Amber Fort
To see this fort, first of all, tourists and tourists will have to reach Jaipur, the capital of Rajasthan. Jaipur is well connect to major cities of the country via road, rail, and air. If tourists are going to see the Amer Fort in Jaipur via flight, then this fort of Amber is about 27 kilometers away from the airport. Where the fort can be reach with the help of a taxi, cab, etc.
At the same time, if tourists are going to see Amber Fort in Jaipur via train, then they have to first get down at Jaipur railway station. And from the railway station, this fort can be reach easily with the help of cab, taxi or bus.
Amer Fort Information
| | |
| --- | --- |
| Amer Fort Location | On the top of the Aravalli hill, about 11 kilometers from Jaipur, the pink city of Rajasthan state. |
| Construction | 16th century |
| Amer Fort Built By | By Raja Mansingh, Sawai Jaisingh, Mirza Jaisingh |
Read this also
Immunity booster food in India
How to boost your immune system?
Best foods to boost the immune system
what is tourism / पर्यटन क्या है ?
FAQs
Why is Amer Fort famous?
The Amer Fort is situate on the top of the Aravalli hill, just 11 km from the pink city of Jaipur in the state of Rajasthan. This fort is a blend of Hindu and Muslim architecture. The fort has a 'Shila Devi' temple and a gate that leads to the private palaces of the kings called 'Ganesh Pol'.
Who built Amer Fort?
Raja Man Singh
Amer fort is located in which state?
The Amer Fort is situate on the top of the Aravalli hill, just 11 km from the pink city of Jaipur in the state of Rajasthan.
Amber fort is made up of which stone?
Amer Fort was built of marble and red sandstone, representing the traditional Hindu and Rajputana style.
Which is the oldest fort in India?
Jaisalmer Fort, built by Rawal Jaisal in 1155 AD
Which movie was shot in Amer Fort?
'Bajirao Mastani' was shot in the year 2015.
Why is the city of Jaipur called the Pink City?
In 1876, during the reign of Sawai Ram Singh I, the city of Jaipur was painted pink to welcome HRH Albert Edward, Prince of Wales, who later became King Edward VII, Emperor of India. At present time, many avenues and streets of Jaipur city are still painted pink.